Sunny Sunday Showcase
Week 3 (April 24)
Baby's on Broadway in Little Falls is owned by our very own everything baby expert, Adelle
Watch for their downtown St. Cloud location opening soon
My next Sunny Sunday Spotlight is Baby's on Broadway in Little Falls, MN (and VERY soon to open a second location in St. Cloud!).  But if you're not local, don't worry — they ship ASAP and can help you with anything you need!
Let me first start with a little story back in December 2017.  I had never stepped foot in Baby's on Broadway or been on their website.  My daughter, Vidalia, was about a week old and I was struggling to find a comfortable position to breastfeed her.  My late husband, Josh, was helpless (wrong anatomy, obviously) but trying so hard to be helpful at the same time.  He finally looked at me and said, "How can I help?"  I simply replied, "I want Nicki's chair.  She bought it in Little Falls."
You see, Nicki is my best friend that had a baby a couple years before me.  She had bought a wonderful chair for her nursery that perfectly glided and turned and had a swiveling footrest that glided and turned and obviously I couldn't get comfortable feeding her without that chair.  (Clearly, sleep deprivation, hormone fluctuation, and pain are not a good combination post-partum).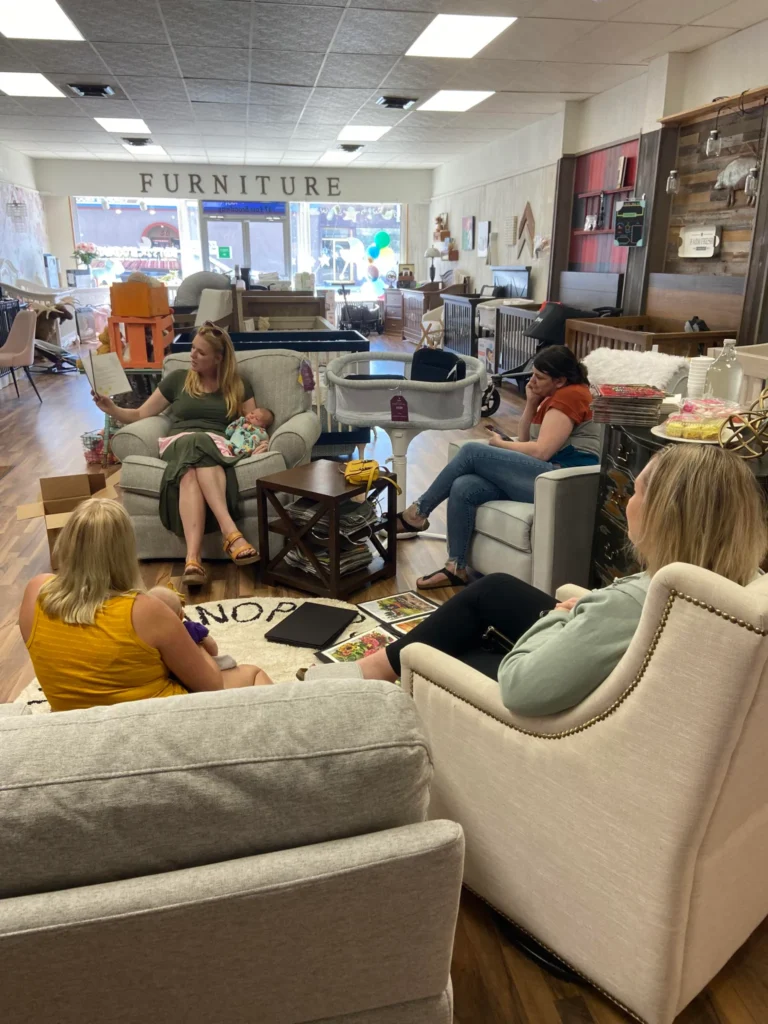 This was like 7PM on a Saturday, and Josh frantically googled, "nursery chair store in little falls" and somehow arrived at the right place, Baby's on Broadway.  He called, not knowing the office hours or paying attention, and by some miracle Adelle, the owner, answered.  I could hear him in the other room introducing himself and followed it up with, "My wife just had a baby and she NEEDS the chair that Nicki had."   I don't think he even said her last name, and she knew exactly what he was talking about.  I kid you not, SHE HAD SOMEONE DELIVER A STORE MODEL OF THE CHAIR THAT VERY NIGHT. 

The next morning, she called Josh again and asked for my cell.  I was so embarrassed by the drama of the chair, but she calmly went through it on the phone, asked me what my nursery colors were, and placed an order for my own chair.  
So many new moms have a similar story when it comes to this store.  I also called her the night before we were leaving for a trip last fall and needed an adapter for the carseat for my new double stroller so I could tackle bringing a 6 week old and a 3 year old to the airport.  Fear not, she delivered it to my house the night of!