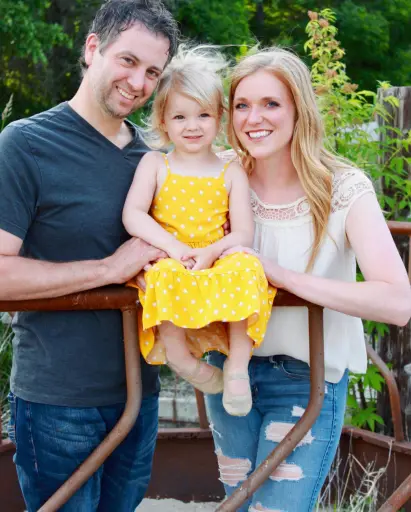 It really is hard to put the story of the farm into a few paragraphs, but we are going to try.
Liz and (now late husband) Josh bought his family farm in 2016 when it became for sale.  They knew they wanted to someday raise a family here and find some way to farm, they just weren't sure what sector of ag they would be pursuing.  Liz was in nurse practitioner school and Josh was a sales team leader at Compeer Financial.  They welcomed their first daughter in 2017, and she graduated in 2019 as a nurse practitioner.
Summer of 2020, they found they had a lot of time on their hands.  Liz had a huge cut flower garden, and wanted to do something kind for the isolated nursing home residents in the area after her grandma passed away without being able to have visitors in June 2020.  The original Roadside Stand started the business, and for every flower bouquet that Liz sold she also donated one to a local nursing home – over 200 in total that year.  They also did a lot of canning and cottage food preparation at that time.  They had big dreams after year 1 for the years to come.
In December of 2020, Josh died unexpectedly of a heart attack while running on the treadmill, and Liz found out she was pregnant with their second child the day after the funeral.  Sunny Mary Meadow was named in memory of Mary, Josh's mom that passed in 2010, and thrives in honor of the original dream that Josh & Liz first started working toward.
A few things have changed – we have outgrown the roadside stand.  We focus mainly on flowers – field to vase bouquets & experiences with some wholesale supplemented in the offseason.  Make sure you sign up for our email newsletter to stay up to date with what's happening at the farm and find out when you can come visit.  
Liz is now engaged to Brent (Flower Farmer Fiance as we affectionately call him), and daughters Vidalia and Davie are growing up on the farm that Josh always hoped to raise his children on.  This is a special place, and we hope you can come experience the magic of it sometime.  As we always say – "we aren't just selling flowers".**